Angela Curran to serve as president and CEO of merged organization.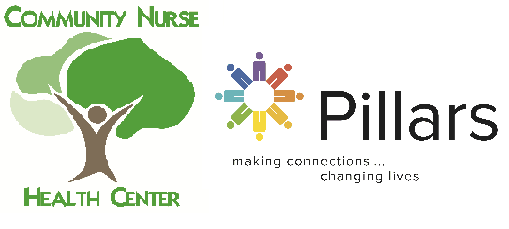 Two of the largest, longest-running, and most respected organizations in the western and southwestern suburbs—Pillars and Community Nurse Health Center—have announced they will merge, effective January 1, 2018. A new brand identity and mission statement will be unveiled in the coming months.
The news comes after a vote from both boards of directors on September 12, 2017. Several other mergers of this type have already occurred nationally and in Illinois, as organizations seek to better integrate primary and behavioral health care and sustain themselves financially.
Leadership Transition
The boards also voted to install Angela Curran, JD, LLM, as president and CEO of the merged organization and Helen Stewart, LCSW (current chief clinical officer) as senior executive vice president, effective January 1, 2018.
Curran has served as president and CEO of Community Nurse since 2007. Prior to that she was an independent legal contractor for the Rehabilitation Institute of Chicago (1996-2003) and adjunct faculty at Loyola University Health Law Institute (1990-1995). Angela holds a Bachelor of Arts in Political Science and Public Administration from Fordham University (1981), a JD from Duke University School of Law (1984), and a Master of Laws (LLM) in Health Law from the Loyola University Chicago School of Law (1993).
"During my leadership tenure at Community Nurse, the partnership between Community Nurse and Pillars to integrate the health care and supportive services provided by each organization has deepened and grown," Curran says. "Board members and staff from both organizations who have been involved in that integration, including myself, have witnessed the powerful impact that integration of services has made for the people and communities we serve. This merger provides us with an opportunity to expand access to those high-quality services in a more systematic manner. It is simply the right thing to do for the people we are so privileged to serve."
Unrelated to the merger, Ann Schreiner (current president and CEO of Pillars) announced her retirement from Pillars in July, effective December 31, 2017. Ann has had an impressive 40-year career in social work (with 34 or her 40 years spent at Pillars). She will continue to consult to the merged organization after her retirement.
"Pillars has been around since 1928 because we have maintained a commitment to innovation and to facing change head-on," Schreiner says. "This will be a great next chapter for an organization I dearly love. I look forward to seeing the merged organization provide a full array of resources to the community, from mental health, addictions, and social services to primary medical, vision, and dental care. It will be my honor to witness this transformation and the agency's continued successes and achievements."
Zada Clarke (current board chair of Pillars) will become chair of the merged board of directors, effective January 1, 2018.
"In my 10 years serving on the Pillars board, I have never seen a more exciting and hopeful time, as we seek to expand the level of health and social services we can provide to our communities," Clarke says. "This merger will expand opportunities to provide exceptional care to all who walk through our doors, treating both the body and mind as needed. The dedication of our staff has been one of the driving forces of this merger, as we work to ensure the most successful treatment outcomes."
In addition, board executives have been announced including Nick Chancellor as vice chair, Sheila Eswaran as secretary, Annika Pangan as assistant secretary, Edward Farrell as treasurer, and Mark Greifenkamp as assistant treasurer. The full list of board members for the merged board of directors has not yet been announced; the two boards will continue to operate separately (but in partnership) until January 1, 2018.
History and Innovation
Pillars is the largest nonprofit provider of mental health and social services in the western and southwestern suburbs. Pillars serves 10,000 people each year through 30 different programs across Mental Health, Addictions, Domestic and Sexual Violence, and Child and Family Services (including a Head Start program). Pillars dates back to 1928 through predecessor agencies; a merger in 2006 created what we know today as Pillars. Currently there are approximately 244 people on staff across six locations (the administrative site, four clinical/child development sites, and the domestic violence shelter).
Community Nurse Health Center is a Federally Qualified Health Center (FQHC) that provides medical, psychiatric, behavioral, and dental care as well as health education and eligibility assistance for over 5,000 low-income children and adults of the western suburbs. The organization dates back to 1921. Currently there are approximately 60 people on staff at three locations in La Grange. Both organizations have a 501(c)(3) designation as nonprofits. Community Nurse has been an FQHC since 2012.
Community Nurse provides medical services at Pillars' domestic violence shelter, Constance Morris House. In addition, the two organizations have partnered for the last seven years as part of the Community Healthcare Network of the Western Suburbs. Managed by Community Nurse, the Network is a collaboration of local health care organizations providing a continuum of healthcare services to low-income, uninsured adults. Additional partners include Community Memorial Foundation, Adventist LaGrange Memorial Hospital, Adventist LaGrange Community Family Practice Center, and the DuPage Health Coalition. As part of this partnership, Pillars provides on-site behavioral healthcare and co-occurring services at Community Nurse.
Both organizations are committed to the communities we serve and seek to further strengthen services to continue to focus on the "whole person needs" of the communities and persons served through an integrated approach to primary medical, oral, and behavioral health services. Integrated primary and behavioral health care can:
Help expand services in our combined service area
Produce better health outcomes for our clients, as it means people with overlapping needs can be addressed with a continuity of care
Create opportunities for our staff, as we now will have an impressive breadth of outpatient services
Reduce stigma, as it puts primary care side by side with behavioral health and social services
Help financially sustain both organizations into the future, as it will make it easier for us to generate more forms of revenue and attract funders