Pillars Community Health turns 100 years old in 2021, amid the COVID-19 pandemic.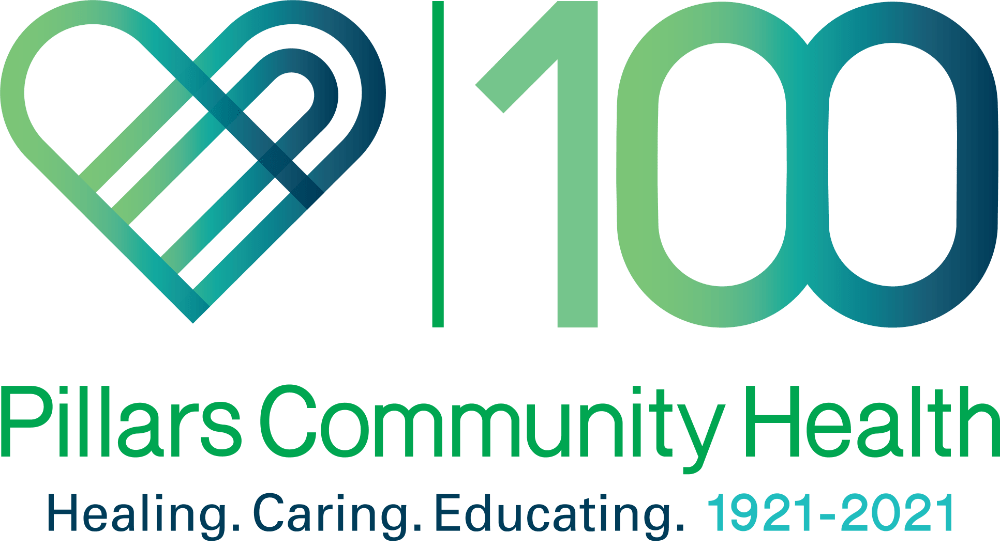 We've found ourselves at the forefront of care in our 100th year, focused particularly on services for those who cannot otherwise afford them or who have experienced a loss of income or insurance these past several months.
We have been tirelessly committed to meeting the changing health and social needs of west suburban residents since our inception. Our history shows our staff and volunteers innovating and piloting new initiatives through polio, the Great Depression, mental health deinstitutionalization, the War on Poverty, the Battered Women's Movement, the Affordable Care Act, and the COVID-19 pandemic.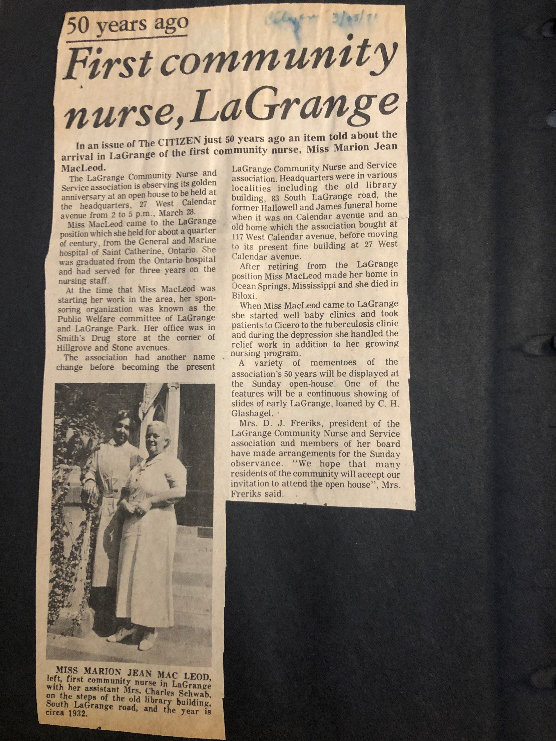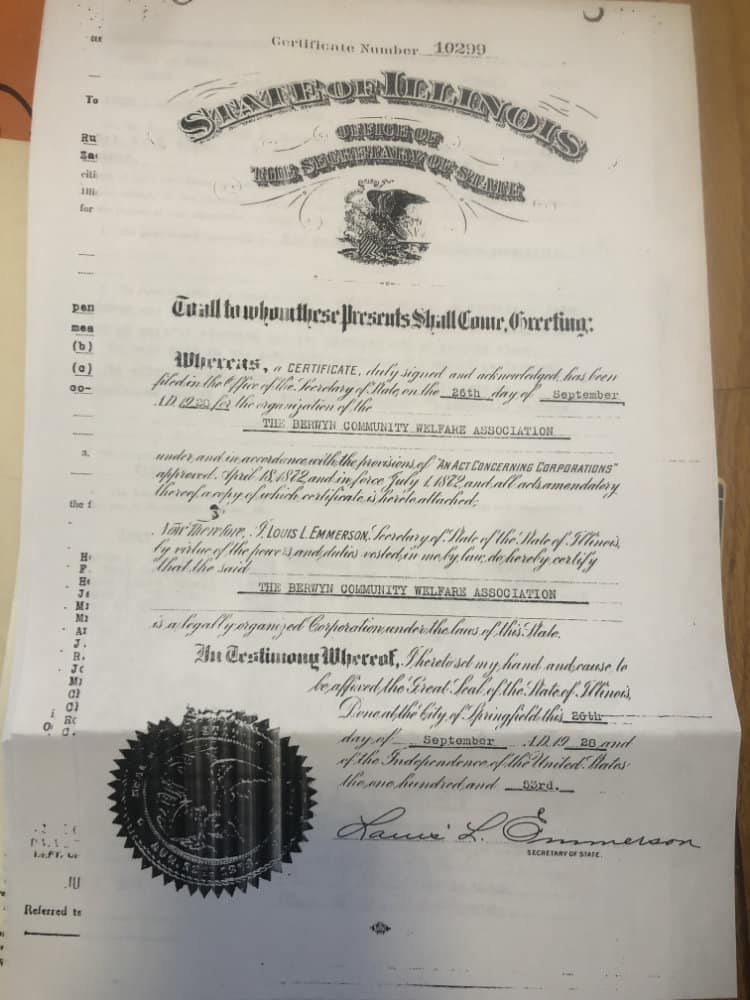 The story of Pillars Community Health can be traced back to World War I when the local Women's Club began their volunteer work. When the war ended, and shortly after they'd gained the right to vote, they turned their attention to helping children. The La Grange Public Welfare Committee employed a volunteer physician, Dr. Gardiner, to examine babies in La Grange every Wednesday in 1919 at the Town Hall. That same year, the state chairman of the Child Welfare League spoke to the local La Grange chapter about the possibility of hiring an ongoing local nurse for the community. On January 24, 1921, our first paid community nurse, Marion Jean MacLeod, began providing well-baby checkups from the back of a drug store in La Grange (located at the corner of Hillgrove and N. Stone Ave.), with the volunteer assistance of Dr. J.A. Gardiner once a week.
The economy boomed in the 1920s. As a result of more families having more money to spend on things like health care, the demand for hospital services increased. That led to an increase in health care prices and the mass accreditation of hospitals across the country. Subsequently it priced a lot of people out of quality care, leading to the launch of many national and local social services organizations. Berwyn launched its Health Department in 1920 (today known as the Berwyn Public Health District). Eight years later, Health Department employee David Abram suggested three local welfare groups join forces to help meet the social needs of Berwyn families who were increasingly requesting township relief funds. Berwyn Community Welfare Association was born on May 20, 1928, with funding from the local community chest and private donations.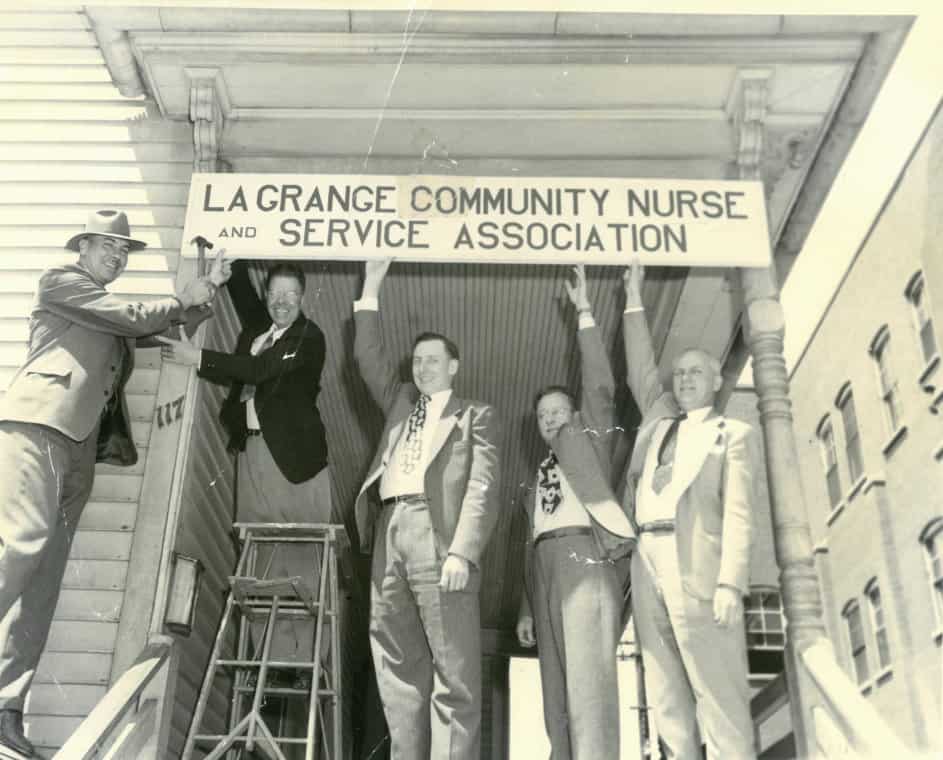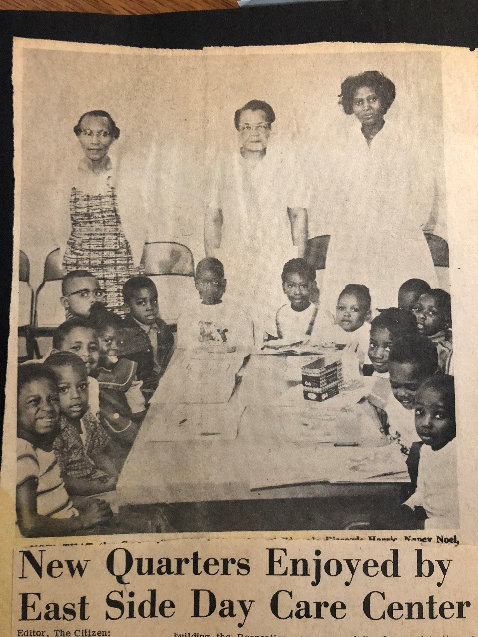 In addition to the clinical work, Community Nurse took on social welfare work amid the Great Depression. This included making small loans to low-income families for rent, providing eyeglasses, giving out milk, and opening an employment bureau to help men find work. By 1934, news articles reported that the organization "has become a prop upon which the entire village has leaned, especially in these last few years of unsettledness."
In 1939, the Episcopal Church in La Grange donated its old parish house at 218 Washington to Community Nurse for the opening of a day care center. That same year, a Berwyn Welfare Auxiliary formed to help fundraise for the Berwyn Welfare Association.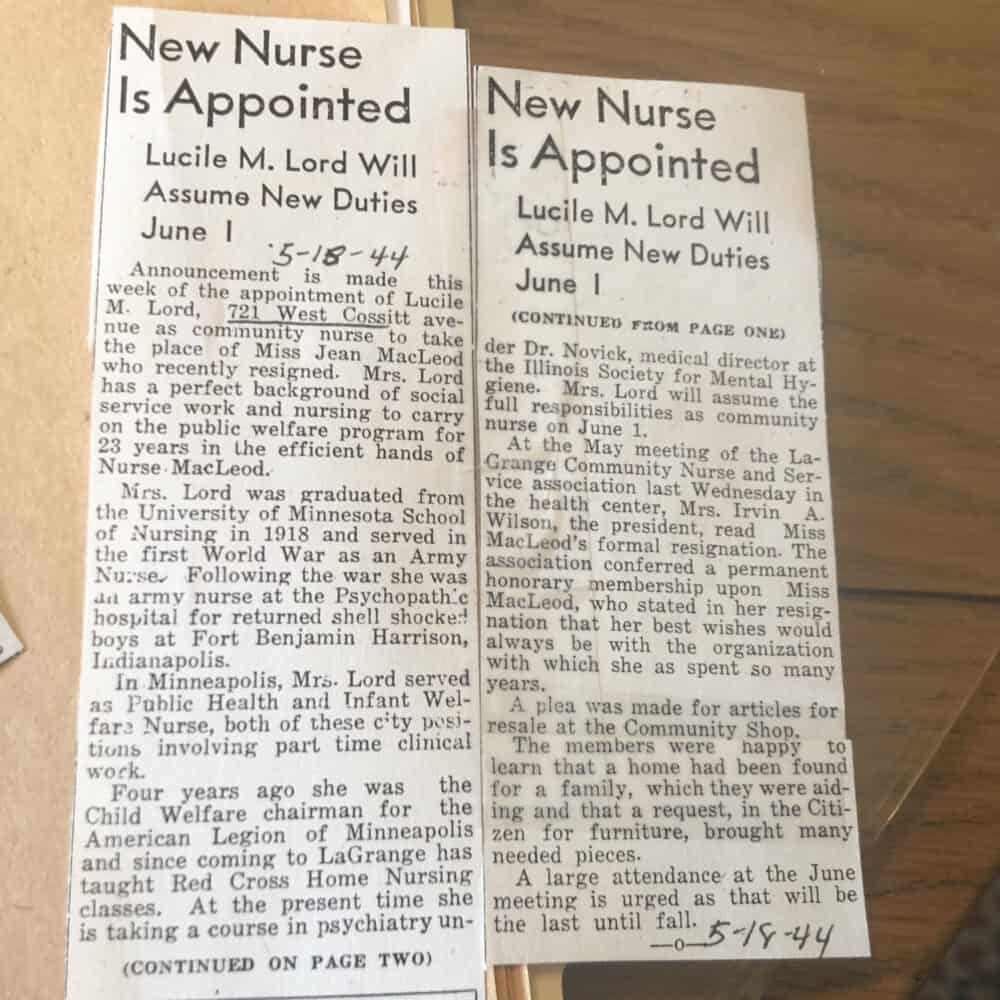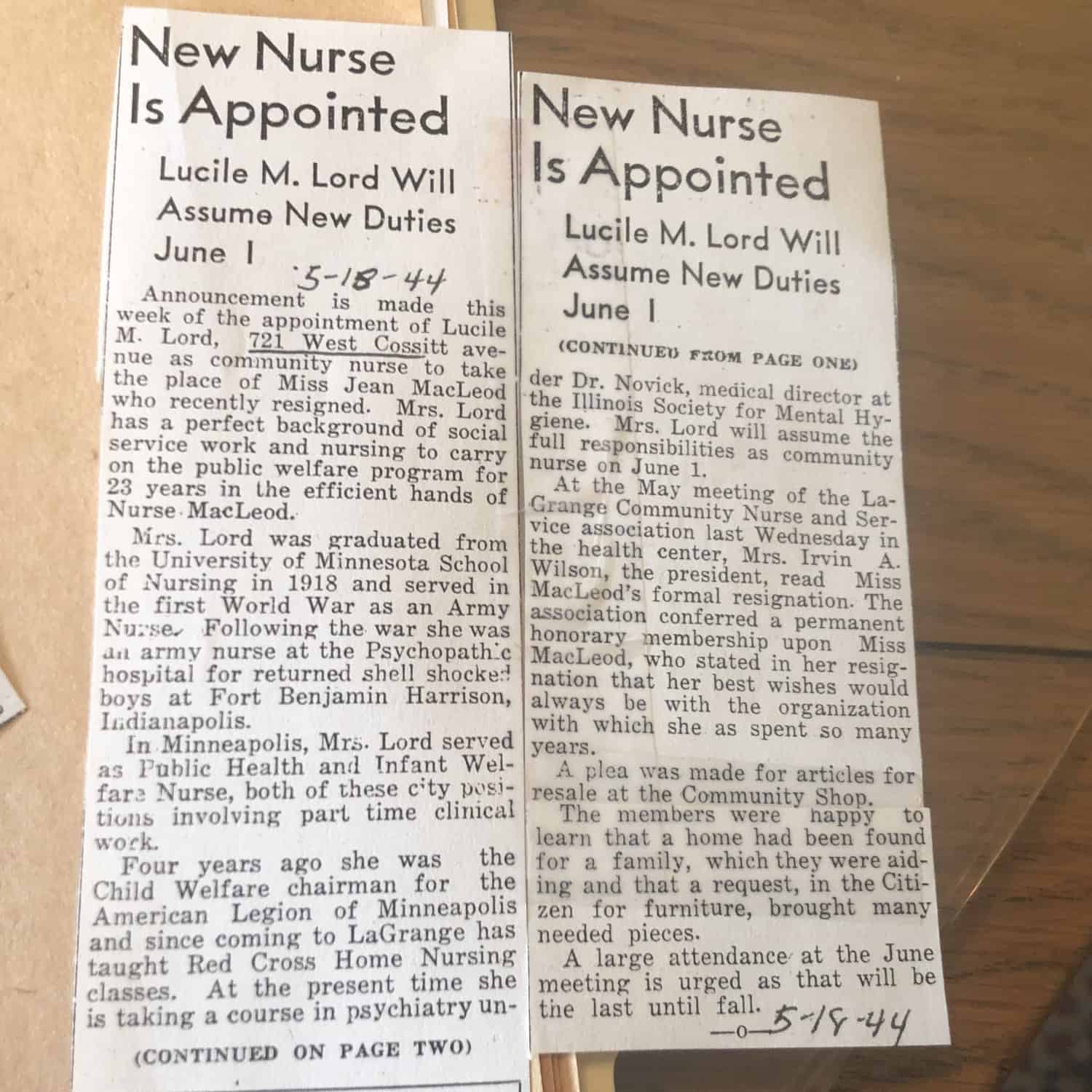 In 1941 with World War II in full swing, Community Nurse hired its first paid physician, Dr. Baxter. He was paid $5 for each 4-hour clinic he worked. When Dr. Baxter was drafted into the war, a female pediatrician, Dr. Jean McBean, was hired for $8 per clinic. As the Allies were gaining traction in World War II, Community Nurse moved from their site at the corner of Hillgrove Ave. into a larger space at 117 Calendar Ave. in 1944 (the same year as D-Day). That same year, after 20 years of work, Jean MacLeod left her position and a new nurse, Lucile M. Lord, was hired. By this time, the nurse was seeing approximately 120 cases per month.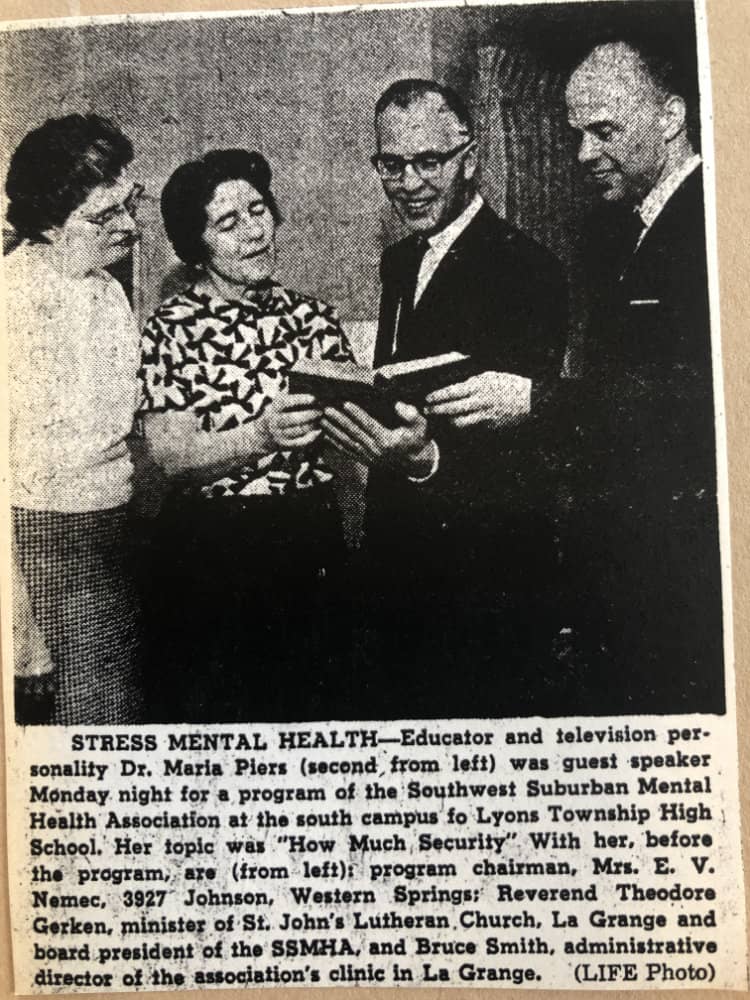 In 1954, the Eisenhower administration passed social security and vocational rehabilitation laws, arguably providing more funds locally so that welfare groups were freed up to do other things. Berwyn Welfare Association turned its attention to mental health and, in 1958, changed its name to the Berwyn Family Service Association (BFS). The focus became casework, counseling, psychiatry, and emergency assistance.
The Southwest Suburban Mental Health Association opened a mental health clinic at 23 Calendar Ave. in La Grange on October 15, 1956. At the same time, Family Services of La Grange also launched its operations (later becoming known as West Suburban Family Counseling Service). The launch of these mental health-focused operations came on the heels of a national "deinstitutionalization" policy that began in the period of the civil rights movement. This was a reaction to and against the abuses of state-run mental health institutions, after which people with severe mental illness were incorporated into mainstream society and provided with community-based services.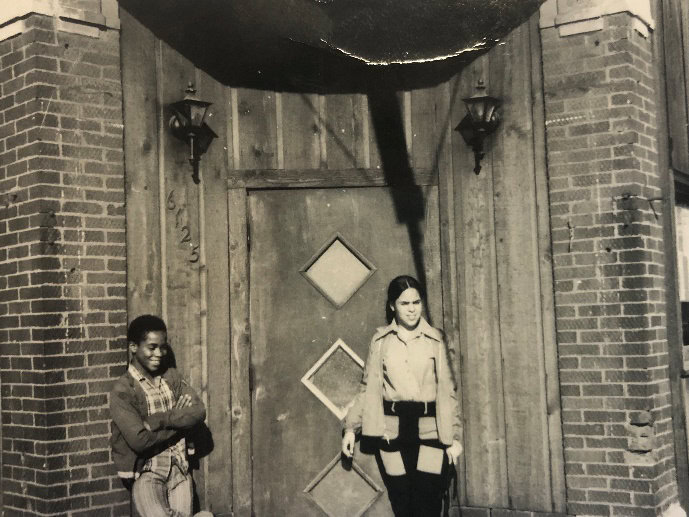 Des Plaines Valley Community Center was formally established on January 1, 1968, shortly after the introduction of Medicaid and the assassination of Martin Luther King, Jr. As the story goes, Des Plaines Valley Youth Center was a failing recreation center located at 6125 S. Archer Ave. The board of the center contacted Hull House in Chicago, noting that like its founder Jane Addams, they had a "vacant building and a dream" to house social services there. Hull House signed an affiliation agreement in the fall of 1967. In 1968, they launched a Head Start program, just four years after President Johnson's War on Poverty called for the opening of the program across the country.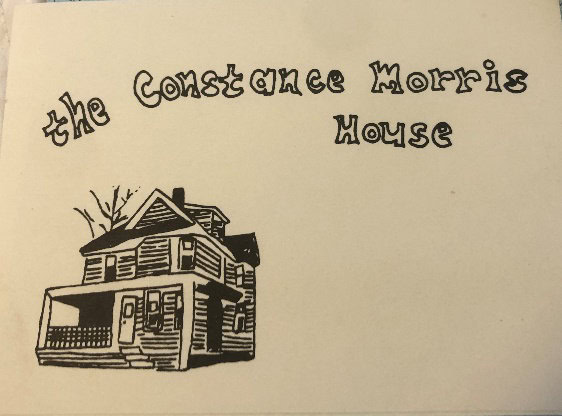 The 1970s saw momentum from the Women's Liberation Movement and Battered Women's Movements. Local police took notice of the increase in awareness and domestic violence calls, so DVCC began exploring the possibility of launching a domestic violence shelter in the Brookfield area. After months of local advocacy by social worker Florence Forshey and others, DVCC received confirmation of zoning for a house in Brookfield on October 31, 1978, and became one of 12 founding members of the Illinois Coalition Against Domestic Violence. The shelter opened on April 24, 1979 with five staff.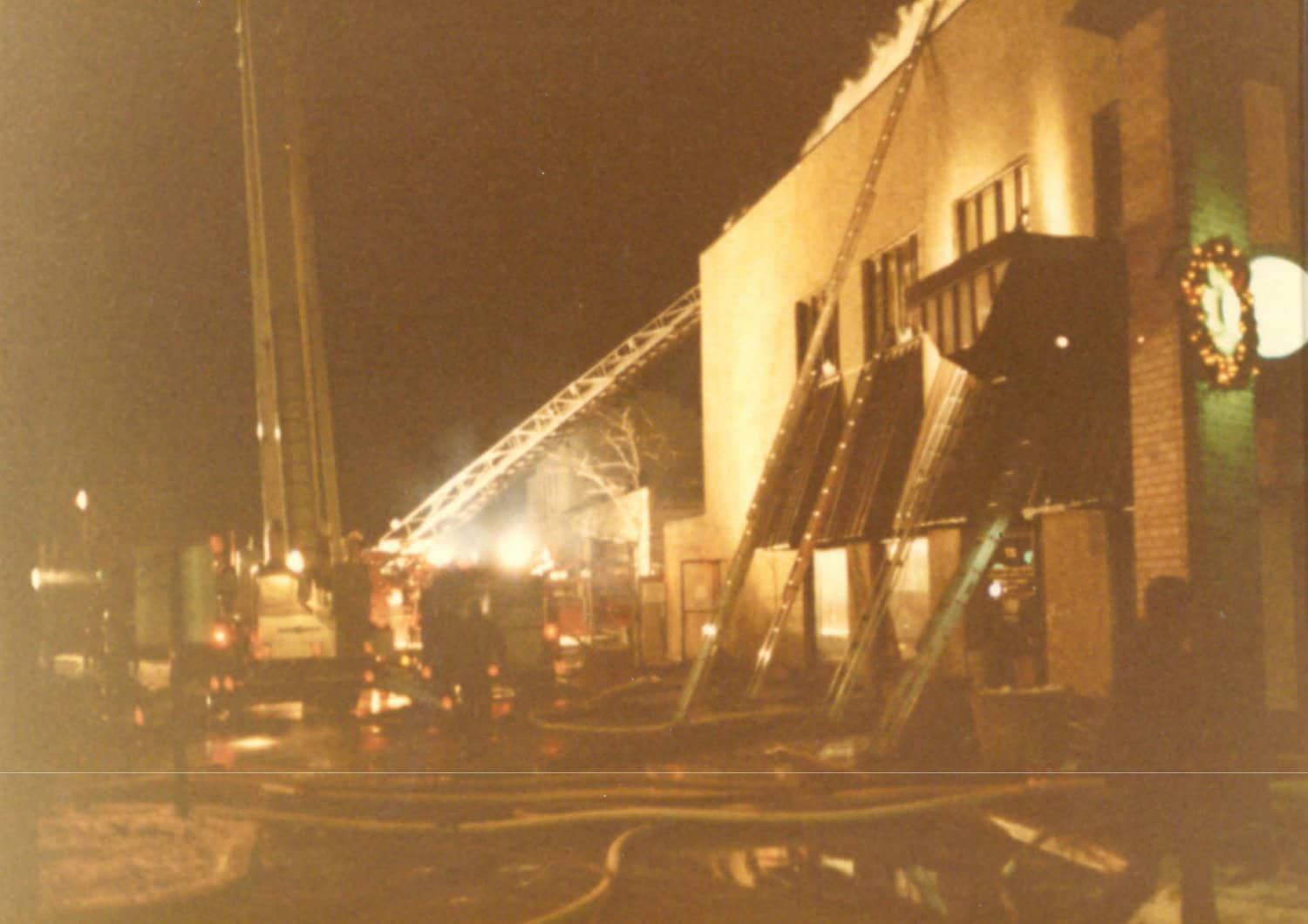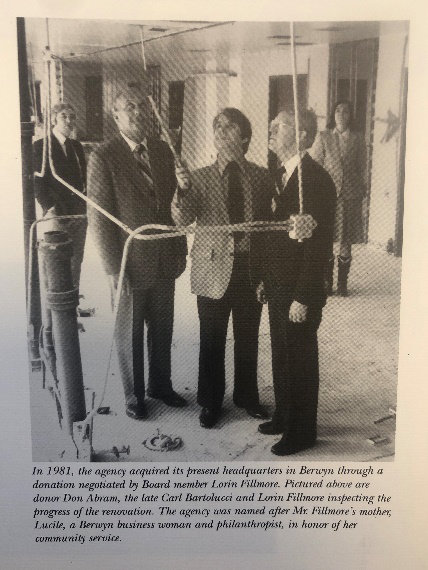 On December 28, 1981, an electrical fire at Community Nurse's building at 27 Calendar Ave. in La Grange forced the organization to temporarily move to the La Grange Bank and Trust. The fire gutted the second floor and the roof. The pediatric clinic and dental clinic were closed for renovations, and nurses made house calls from a makeshift clinic at the La Grange Town Hall.
Meanwhile, Berwyn Family Services was busy educating the public about the need for community mental health services. The result was the passage of the HB708 township tax referendum to create what we know today as the 708 Mental Health Boards of Berwyn and Cicero. In 1981, BFS moved to 6918 Windsor Ave. (where we remain today) and named the building after Lorin Fillmore, who was the primary benefactor, donating funds in his mother's memory. In turn, they renamed the organization the Fillmore Center for Human Services.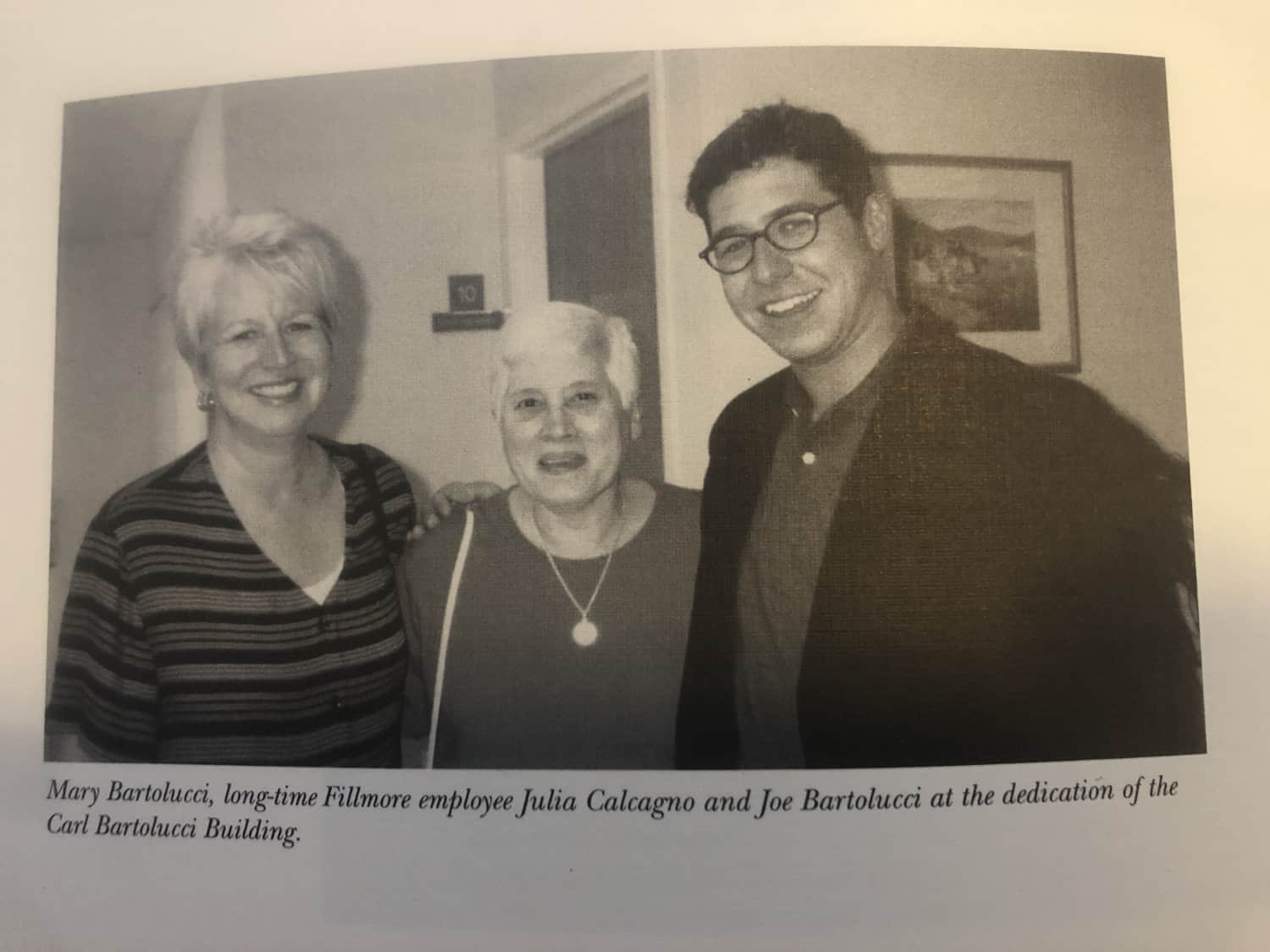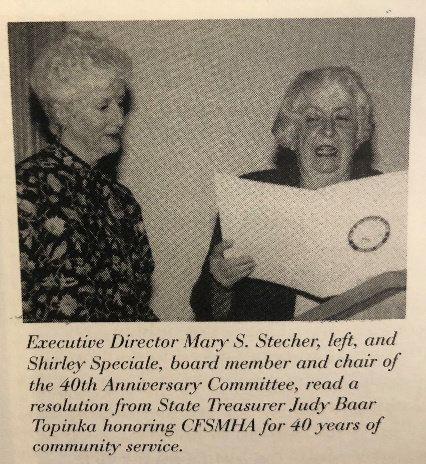 Between 1990-1992, Community Nurse purchased three of our present-day locations: 110, 27, and 23 Calendar Ave. in La Grange. In 1995, Fillmore Center purchased another present-day location, 6415 Stanley Ave. in Berwyn. That same year, after 25 years on staff and 17 years as executive director, Carl Bartolucci died. On June 12, 1998, the agency had a dedication of the Stanley building and renamed it the Carl Bartolucci Center. Community Family Services purchased 1023 W. Burlington Ave. in Western Springs in 1990, under the direction of then-Executive Director Mary Stecher.
A merger begins brewing in 1997, when we see CFS and Fillmore begin talks of a possible affiliation to grow resources jointly. By July 1, 1998, a formal affiliation was passed, and Mary Stecher became the CEO and executive director of both organizations.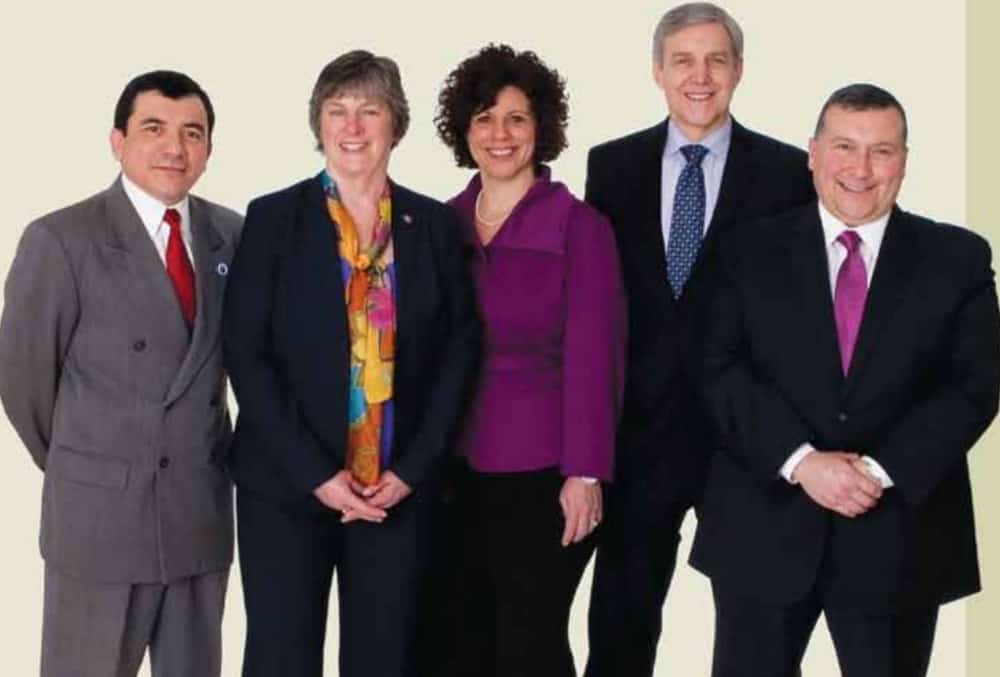 The 2000s were a decade of upending change that laid the groundwork for our present-day list of services. In 2002, the Fillmore Center merged with Community Family Services to form Community Care Options (CCO). Four years later, Community Care Options moved with Des Plaines Valley Community Center (by then called Pillars Community Services) to form a new agency: Pillars.
In 2009, Community Nurse launched the Community Healthcare Network of the Western Suburbs, to provide a continuum of care by partnering with local health care organizations-including Pillars.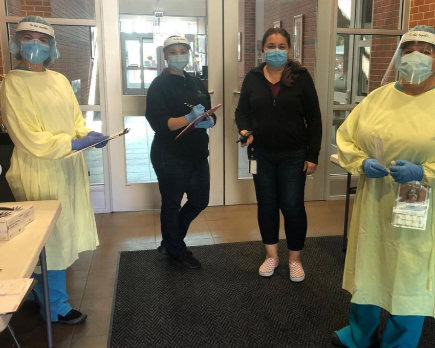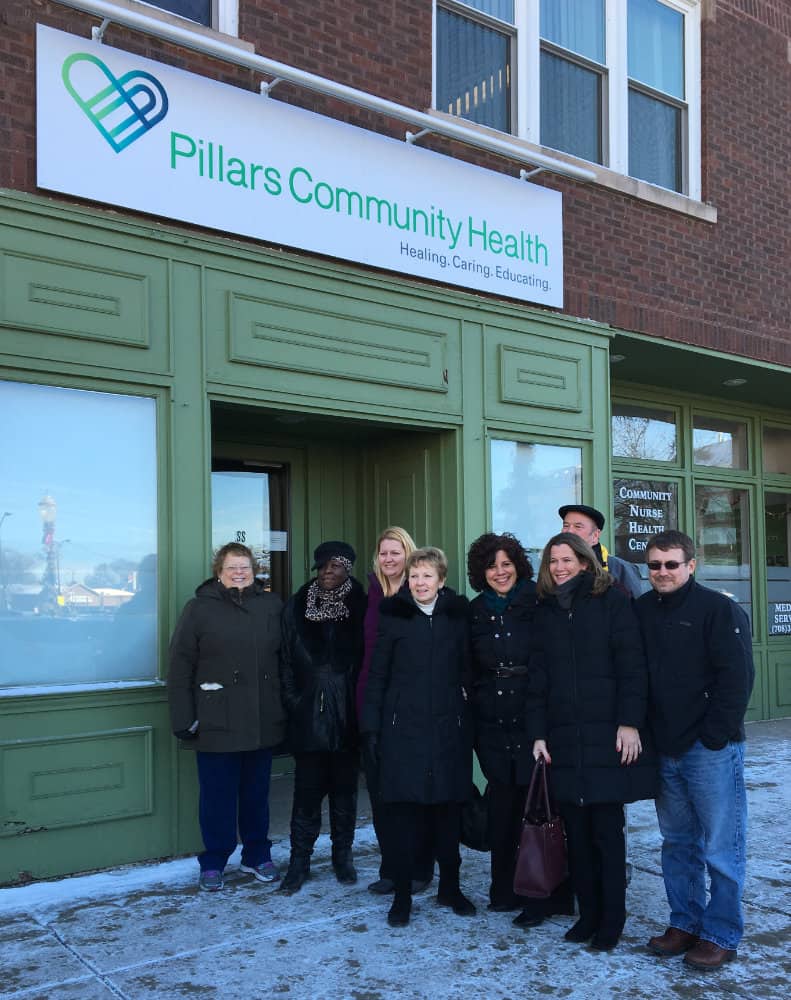 In 2012, Community Nurse Health Center became a Federally Qualified Health Center. This base of funding continues to help us ensure support for all patients who need care, regardless of their insurance or income. Community Nurse partnered with Pillars to provide behavioral health care to FQHC patients out of Community Nurse's location in La Grange.
In January 2018, Pillars and Community Nurse formally merged to create Pillars Community Health. The merger sought to bring health and social services closer together, under one banner, and help sustain services through a broader set of funding streams.
Today, amid the COVID-19 pandemic, we continue to innovate and look forward. In 2020, we launched three COVID-19 testing sites, a COVID-19 vaccination program, and virtual services across programs. In this our 100th year, we continue to proactively assess the needs of the communities we serve and ready ourselves for more innovations to meet those needs.